NGO Consultations
The Alliance organises this consultation annually to take advantage of the presence of many NGOs attending the EB sessions in Geneva in January. The main objectives of these consultations are exchanging and strategising for the WHA . Guest speakers are invited to address the main issues during this meeting.
Annual NGO Consultation 2019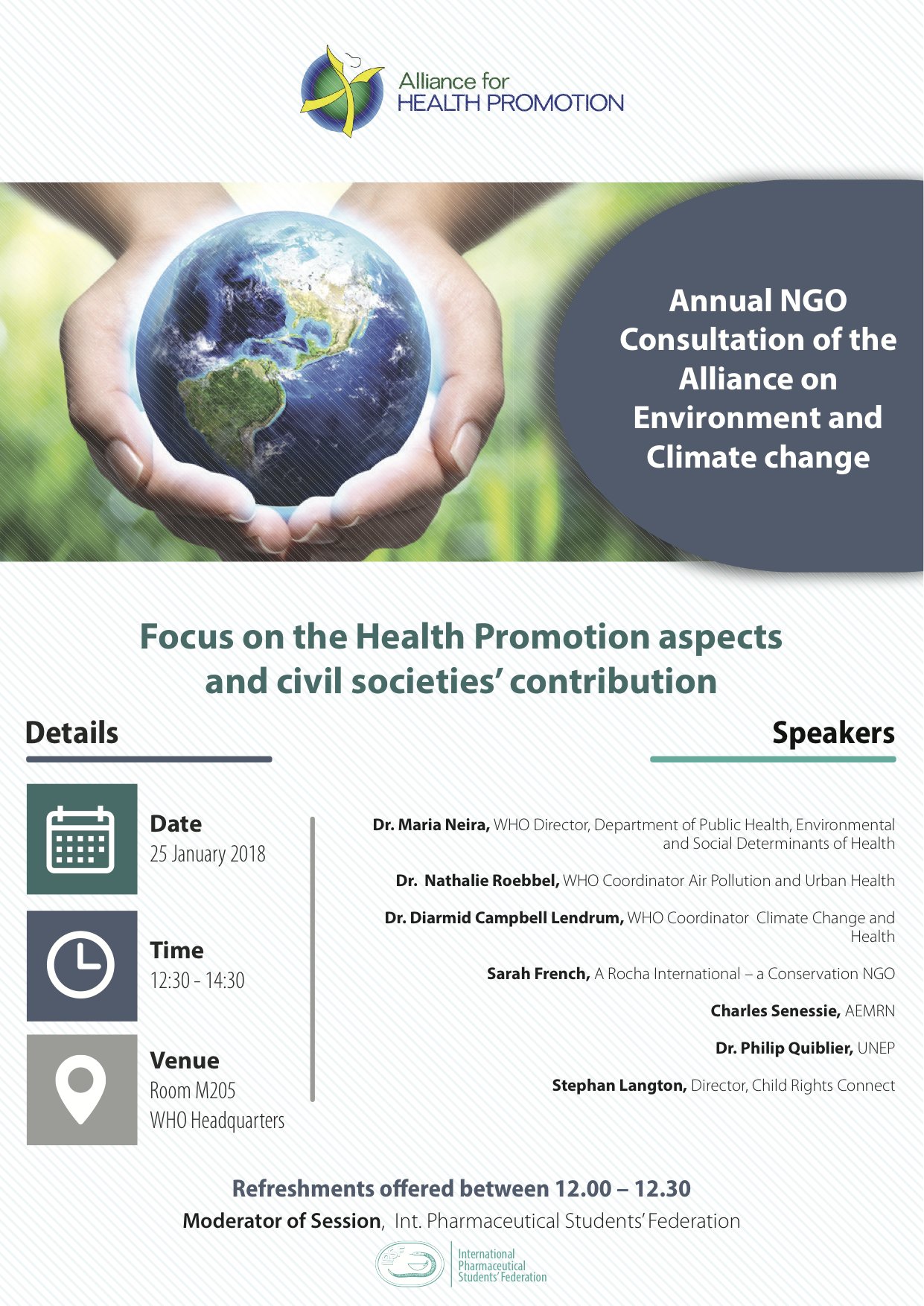 The Annual NGO Consultation of the Alliance was be held 25 January from 12:30-14:30 in Room M205 at the WHO
The Consultation focused on the health promotion aspects and civil societies' contribution to  the Agenda item on Health and Environment and Climate Change.
The aim of our annual consultations is to bring together NGOs, WHO and governments, representatives at the Executive Board of WHO 
Annual NGO Consultation meeting during the WHO EB (2015)
28 January 2015, 14:30-16:00
WHO Library Meeting Room, Geneva
"Topical Issues in Health Promotion"
Speakers:
Mr Arinze AWILIGWE, International Pharmaceutical Students' Federation, IPSF member
"Improving access to safe drinking water in Delta State, Nigeria" a project of R20
Dr Manoj KURIAN, Associate Professor, Kent State University
"Health Promotion and Ethics"
Annual NGO Consultation meeting on HiAP (2014)
Geneva, WHO Room X7, 21 January 2014, 12.30-14.00
Agenda
Annual NGO Consultation meeting during the WHO EB (2013)
WHO, 22 January 2013 – 12:30-14:30
Presentations:
Community Action Nepal, Doug Scott
8GCHP Helsinki Overview, K.C. Tang, WHO Coordinator for Health Promotion
Workshop during the WHO EB 2011
"Health System Strengthening through Community Health Promotion"
17:00-19:00, Tuesday, 18 January 2011
Geneva, WHO, Room 4341, 4th floor