Thank you to all the participants to the 9th Global Forum on Health Promotion, for making it so successful.
To keep the conversation going you can watch and share the video of the whole event using this link www.who.int/healthpromotion/en/
Full texts for two of the speeches are also available:
Join us for the 9th Global Forum on Health Promotion
On the 12th of November 2019, the Alliance for Health Promotion will hold the 9th Global Forum on Health Promotion in partnership with the WHO. The theme of this year's event is "A Critical Pathway to Achieving Universal Health Coverage" (UHC). Representatives of governments, civil society and international organisations will gather at the WHO to discuss how to put in practice the historical declaration adopted by the UN High-Level Meeting regarding UHC on the 23rd of September 2019.
To join, please register using the following link (mandatory):
https://reg.unog.ch/event/32449/
If you are not able to attend the Global Forum in person, you can watch it live or up to 3 months after the event using the following link:
https://www.who.int/healthpromotion/en/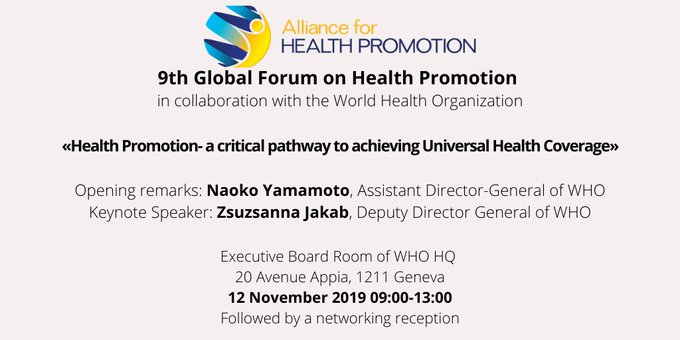 Preliminary Programme
08:00: Registration
09:00-09:20: Opening Remarks
→ Bernard KADASIA, President, Alliance for Health Promotion (A4HP)
→ Naoko YAMAMOTO, Assistant Director-General, WHO
9:20-10:20: Panel 1 – The role of governments in implementing the outcome of the High-Level Meeting on Universal Health Coverage
Moderator: Miháky KÖHÉNY, former Minister of Health, Senior Fellow at the Graduate Institute
Speakers:
→ Government Representatives from the Geneva Permanent Missions
→ Ruediger KRECH, Director, Health Promotion, Division of Universal Health Coverage and Healthier Populations, WHO
→ Bernard KADASIA, President, A4HP 
10:20-10:50: Healthy Break
10:50-12:00: Panel 2 – Translating Global Declaration into Actions
Moderator: Hussein ELSANGAK, Life University, Board Member of the Alliance
Speakers:
→ Carlos ZARCO, President, International Health Co-operative Organisation
→ Sandrine MOTAMED, General Secretary, Geneva Association of Community Development
→ Shirin HEIDARI, President, GENDRO: Advancing Sex and Gender Equity in Research
→ Wendy KATHERINE, Executive Director, Health Nexus
→ Louise MAGNARD, Réseau Education et Solidarité RES
→ Agnès SOUCAT, Director, Health Governance and Financing, WHO
12:00-12:45: Keynote Speech by Zsuzsanna JAKAB, Deputy Director-General, WHO

12:45-13:00: Closing Session by Bernard KADASIA, President, A4HP

13:00-14:30: Networking Reception
Background on A4HP
The Alliance for Health Promotion (A4HP), established in 1997 at the 4th WHO Global Conference on Health Promotion in Jakarta, is an International NGO registered with the State of Geneva, Switzerland.
The Alliance is comprised of a network of NGOs from different sectors who share a dedication to health promotion. A4HP is an NGO in Official Relations with the WHO and holds Consultative Status with the United Nations ECOSOC. A4HP uses its global network to reach out to local communities with health knowledge and resources.
What is Health Promotion?
When thinking about health, medicine and doctors are the first thing that come to mind. In essence health is a much broader and inclusive subject with many different aspects to it and one of its key areas is Health Promotion.
We consider Health Promotion as the means to support individuals to take responsibility for their own health and to work for an environment in which they can be successful.
In 1986, the Ottawa charter for health promotion identified five action areas for Health Promotion.
Build Healthy Public Policies
Create Supportive Environments
Strengthen Community Action
Develop Personal skills
Reorient Health Services
30 years later, the Ottawa charter continues to provide a solid foundation upon which to build.
Health Promotion is the process of enabling people to increase control over and to improve their health

Ottawa Charter 1986
---