THANK YOU FOR YOUR UNDERSTANDING
---
Upcoming Events: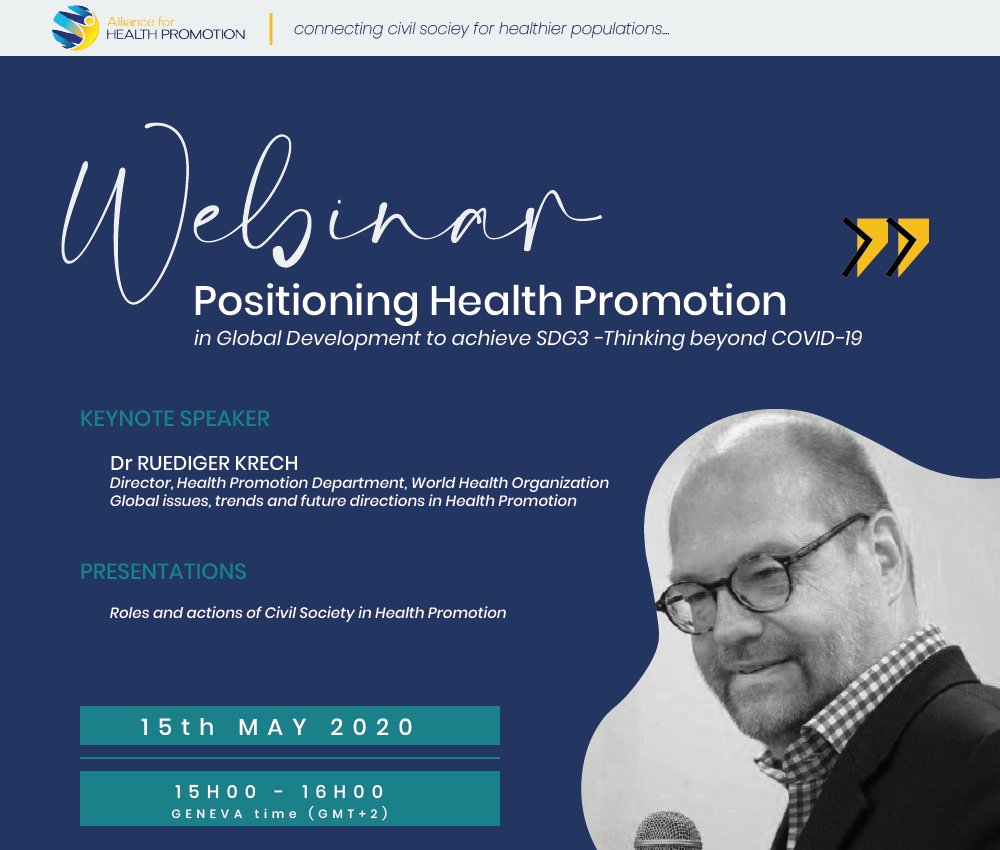 Link to join the webinar: https://us02web.zoom.us/j/83180697019
ID: 831 8069 7019
---
10th Global Forum on Health Promotion
hosted by Health Nexus in
Ottawa, Canada
20-21 October 2020
---
STATEMENT

by the Alliance for Health Promotion

on US halt of funding to the WHO

COVID-19 has turned out to be a much bigger challenge than anybody would have expected.

Its rapid spread has lead to close to 3 million confirmed cases, 202.600 deaths,  in 213 countries and territories. This is truly a global disaster.

At a time when the world is facing such an enormous challenge it is imperative that all brains and hands, all resources work together, each one contributing with their best ability in a spirit of common, mutual interest and solidarity.

When things are as complicated as they are now it is also quite easy to see weaknesses, where one or the other among those confronting the crises could have done better. This is not the time of fault-finding and blame-shifting. The focus should be on winning the fight.

WHO has done a lot of work in the phase of a quickly evolving and complex health emergency. It has provided regular and comprehensive overviews of the situation, given advise on what actions should be taken in the pandemic and provided overall technical leadership.

To do its work the WHO depends first and foremost on the support of its Member States and in addition, to extensive partnerships and collaborations with other UN Agencies and Civil Society. To win this fight and others to come, this support and collaboration is essential.

The nature of the world is now that everything is so interconnected and interdependent.  You need a common structure, a system as well as direction to succeed. No one country, person or group can succeed alone.

Indeed, when the battle is won there will be time enough to look back what we have done  and what could have been done better.

We, in the health promotion civil society are keen to see how we can work together with WHO and other stakeholders in going forward and see how health promotion strategies can contribute more significantly in responding to similar cases of emergencies.

28 April 2020
---
In Memory of Dr Sonia Heptonstall, Founding Member of the Alliance for Health Promotion
It is with great sadness that we share with you the news of the passing away of Dr Sonia Heptonstall. Sonia succumbed to COVID-19 infection on March 19, 2020.
She, together with a few visionaries passionate about Health Promotion attended the WHO International Conference on Health Promotion held in Djakarta in 1997. Coming from the Conference they founded the NGO Advisory Group on Health Promotion, pre-cursor to the present-day Alliance for Health Promotion. Since then she has been a strong advocate for Health Promotion. She put a lot of time and effort to make the Alliance succeed. She was a selfless, warm-hearted friend and colleague. Until 2018 she was a Member of the Board. Read more… 
---
Background on A4HP
The Alliance for Health Promotion (A4HP), established in 1997 at the 4th WHO Global Conference on Health Promotion in Jakarta, is an International NGO registered with the State of Geneva, Switzerland.
The Alliance is comprised of a network of NGOs from different sectors who share a dedication to health promotion. A4HP is an NGO in Official Relations with the WHO and holds Consultative Status with the United Nations ECOSOC. A4HP uses its global network to reach out to local communities with health knowledge and resources.
What is Health Promotion?
When thinking about health, medicine and doctors are the first thing that come to mind. In essence health is a much broader and inclusive subject with many different aspects to it and one of its key areas is Health Promotion.
We consider Health Promotion as the means to support individuals to take responsibility for their own health and to work for an environment in which they can be successful.
In 1986, the Ottawa charter for health promotion identified five action areas for Health Promotion.
Build Healthy Public Policies
Create Supportive Environments
Strengthen Community Action
Develop Personal skills
Reorient Health Services
30 years later, the Ottawa charter continues to provide a solid foundation upon which to build.
Health Promotion is the process of enabling people to increase control over and to improve their health

Ottawa Charter 1986
---